Noah's Ark Childcare and Development Center is a non-profit, Christian-based, state-licensed child care center dedicated to providing a positive, and safe environment where children can learn, and play together. Noah's Ark is open 12 months of the year, Monday thru Friday, from 6:00 a.m. to 5:30 p.m.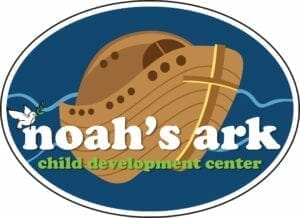 Noah's Ark accepts children from 6 weeks through 4 years of age. We recognize the unique nature of each child.  We offer a developmentally age-appropriate, Christian program that is designed to meet the spiritual, social, emotional, intellectual and physical needs of each child. We encourage each child's development of a positive self-image and a sense of personal worth in an environment of trust, respect and full cooperation.
Key features of Noah's Ark include:
Full Daycare Programs and Services
Small class sizes and teacher child ratios that meet or exceed State requirements
A caring and Christian staff known for being loving, nurturing and discerning of each child's individual needs
Communication and learning skills learned through teacher direction, allowing for self-motivation, and opportunities for hands on learning.
As a Christian Child Care Center, we say prayers before meals also to read and talk about Bible stories.
We welcome you to visit our Center…
We would love to have you tour our Center as we give open tours.  Please visit us before 11:00 a.m. or from 3:00 - 5:00 p.m. and we will be happy to show you our classrooms and meet our teachers.  If you would rather set an appointment, during these times, please give us a call so we can set up a date and time that works best for you. We are committed to partnering with parents to provide the foundation for children to grow to be loving, productive, confident, and responsible individuals.
CONTACT INFORMATION
Noah's Ark Child Care & Development Center
1350 Cody Road North
Mobile, AL 36608
(251) 344.0898 ext. 700
noahsark@newgc.org